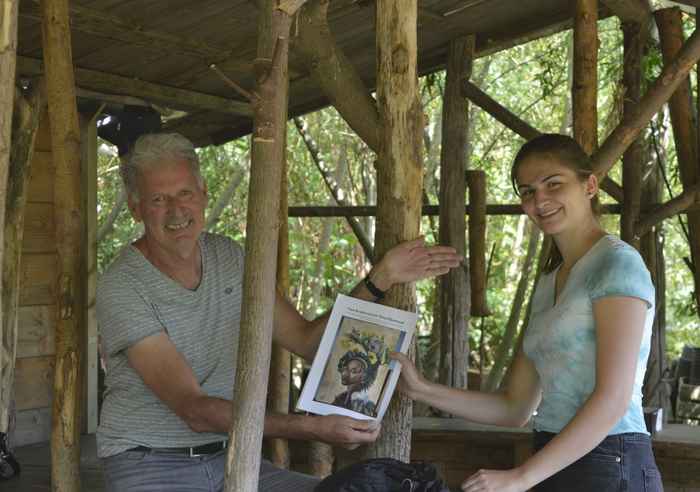 The students demonstrated their different interpretations of the assignment to share a vision. Where one student wrote a poem and created a painting in which all aspects of her vision are reflected, other students chose a more practical proposals by, for example, making a large part of all the outdoor parking spaces 'green'. A quick calculation shows that an area as big as three 'Vondelparks' could be cleared.
Vertical farming
The list of reasons to consciously choose a greener environment is long. Besides an increased sense of happiness by its residents, there are also practical benefits in terms of climate adaptation - cooling in times of heat and increasing resilience during heavy rainfall - and increasing biodiversity. In addition, there are aspirations of agricultural yields and 'vertical farming', i.e. cultivating buildings. A nice incidental benefit is that agricultural land outside the city could become available for wild and original nature.
From stone desert to green oasis
The module also provided students with a new perspective on familiar scenes. For example, one student wonders whether the stone-built squares in Amsterdam East could be green oases? Because many schools are close by, increasing the amount of vegetation in these places could contribute to the connection children feel with nature and give an impulse to outdoor play. In time, this will hopefully lead to a higher appreciation of nature - and thus to its conservation.
Inspiration from Paris
Browsing the booklet, many ideas come across: Creating space for vegetation by deliberately leaving cracks and holes empty for this purpose, or drawing inspiration from the green strips in Paris. One student reflects on his own experience: he missed the trees in his neighbourhood after they were cut down and emphasised, among other things, that space can be given to citizen initiatives to plant trees themselves. Or how about an awareness campaign for the importance of greenery and the non-human inhabitants of the city?
The essays by the students all contain insights into the perception of 'green' and how this can be dealt with. There are important questions to consider: How to distribute, make already accessible knowledge available and take responsibility? All in all, a fine collection of refreshing perspectives is united.
Course information
The course 'National Park Amsterdam: the ecology of the city' is an Honours module of the IIS, taught in the second semester of the academic year 2021-2022. For more information, please contact the course coordinator Joris Buijs.